A Jazz Forum, a Music Forum !
Concerts for the public and young audiences from Wednesday 29 November to Saturday 02 December, 20 showcases and more than 20 meetings including 7 English-speaking meetings for national and international professionals and students in the music industry, more than 10 local organisations working together for a single jazz event…
After criss-crossing the Auvergne-Rhône-Alpes region (Annecy, Saint-Etienne, Vienne, Clermont-Ferrand), Forum Jazz will be bringing its concept to the regional capital in LYON in 2023: a travelling event that's unique in France!
Jazz? Jazz(s)! At the crossroads of contemporary amplified music (soul, hip-hop, funk, electro), traditional and world music, contemporary music and vocal music: every aesthetic will be represented. 4 days and evenings that will make Lyon the epicentre of Jazz(s) in France from 29 November to 2 December!
Let's set the pace for the music industry!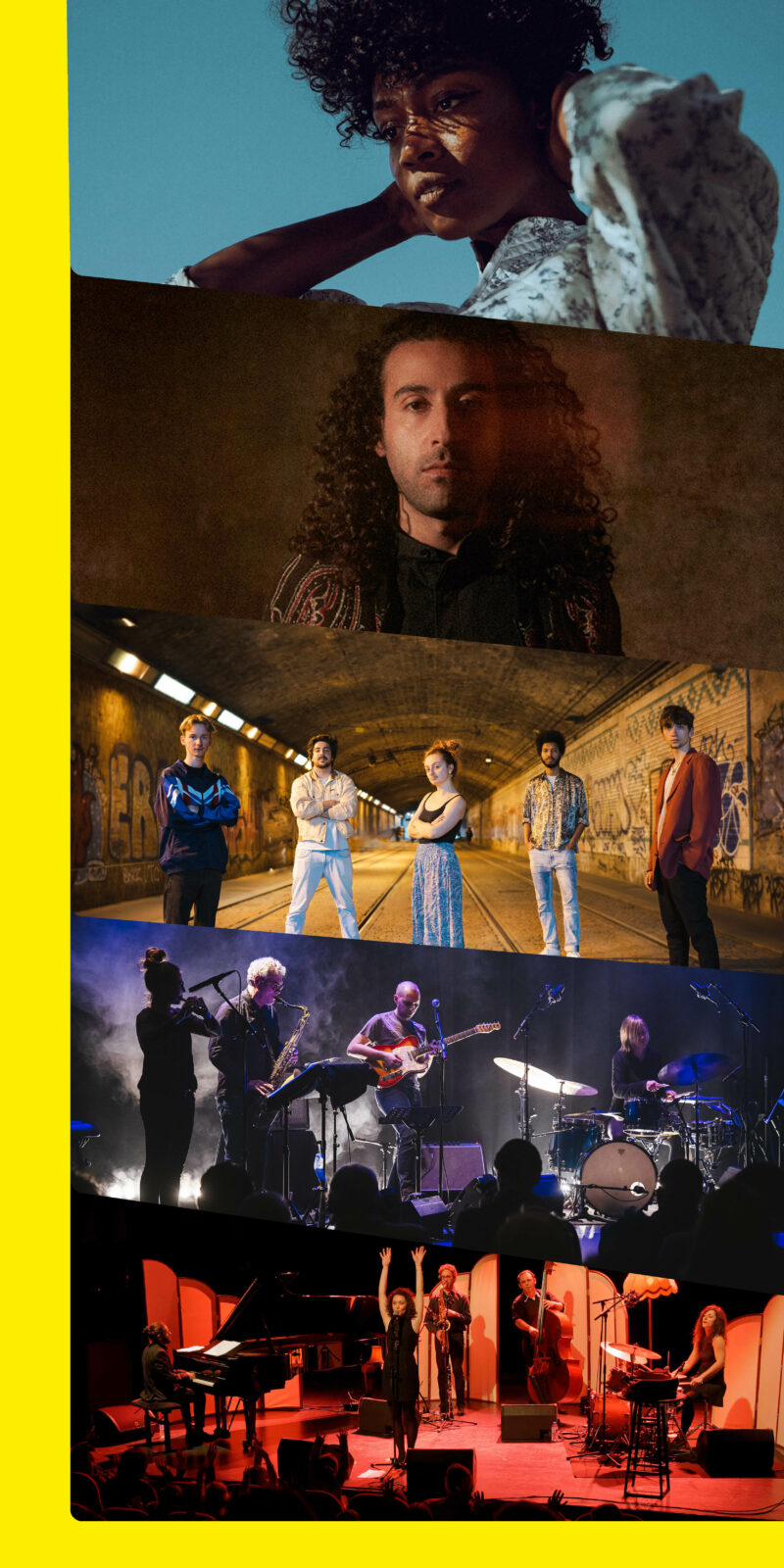 Concerts open to the public
Forum Jazz is based on a spirit of cooperation and on the dynamism of the cultural players in the host region. Audiences will be delighted to discover the well-known and well-known venues that make up Lyon's jazz scene, and more widely:
From Wednesday to Friday : 
An opening night at Chapelle de la Trinité in partnership with SPEDIDAM, Hot Club de Lyon, Les Grands Concerts  with Génération SPEDIDAM artists Célia Kaméni and Pierre Baldy-Moulinier. en compagnie des artistes Génération SPEDIDAM Célia Kaméni et Pierre Baldy-Moulinier. An evening in symbiosis with the venue : mystic and charged with emotions.
Marché Gare will take on with 8 showcases on Thursday 30 November and Friday 1st December for two early evenings of jazz in all its forms : latin (AA'IN, BOCAno BECO), rock (Essor & Chute [de notre civilisation]), vocal (ElliAViR, Alfio Origlio – Human Flow, Flaws), electronic (FOEHN x Malo Lacroix), acoustic (Possible(s) Quartet + Sophia Domancich – No Work Songs) alike Marché Gare : open, and definitely modern.
Young audiences concerts at Périscope and musée des Confluences with Nanan!, Nefertiti, Le Carnaval des Autres Animaux, but also the first performance of a new création driven by JAZZ(s)RA in partnership with SACEM : Bestioles Blues Bazar !
On Saturday, a Jazz Tour
During the Day from 11h30, walk along Lyon's "Presqu'Île" ! A Jazz Tour will begin at Lyon's City Hall, where the carillon will be ringing in tribute to Mario Stantchev. You will also be able to listen to Sandra Nkaké talking about her favorite records and performing at Opera Underground, Lili's Bakers at Hot Club de Lyon, Frédéric Arnoux Trio at La Grooverie, The Strangers at Club Transbo. During the afternoon, you will be invited to join us at Lyon's City Hall for a conference about our region Jazz History, moderating by the radio show Open Jazz host Alex Dutilh.
A closing night on Saturday at musée des Confluences with Yessaï Karapetian Quintet, at the crossroads of traditions and modernity, as the venue hosting the night.
A unique collaboration for our region's music, land of jazz, which we invite you to join for 4 days and nights of sharing and conviviality about our industry.
Professional Forum
Epicenter of this federating event for our music industry, space dedicated to professionals and students, the Professional Forum  will take place at H7, Marché Gare and Périscope. 
A program concieved in 4 approaches :

European Regions meetings
Jobs meetings
Formation meetings
Young Audiences meetings
We will be relying on the help of :
National and European speakers invited within the Footprints program, a Creative Europe co-funded project driven by Périscope,
Partner networks,
Representatives from the State, French, National Music Center, territorial collectivities…
After these meetings, participants will be free to participate to 20 showcases from 18h00 on Thursday and Friday at Marché Gare, followed by Périscope.
At Forum Jazz, one principle : conviviality as a connecting thread. So join us from 29 November in Lyon !
A Professional Forum for whom ?
Jazz, current, traditional, world, contemporary music artists… We voluntarily built open meetings beyond jazz.
Producers, editors, teachers, event planners, programers, journalists, technicians…
Collectivities, State representatives, institutions…
Students from partner universities, students from conservatories, music schools…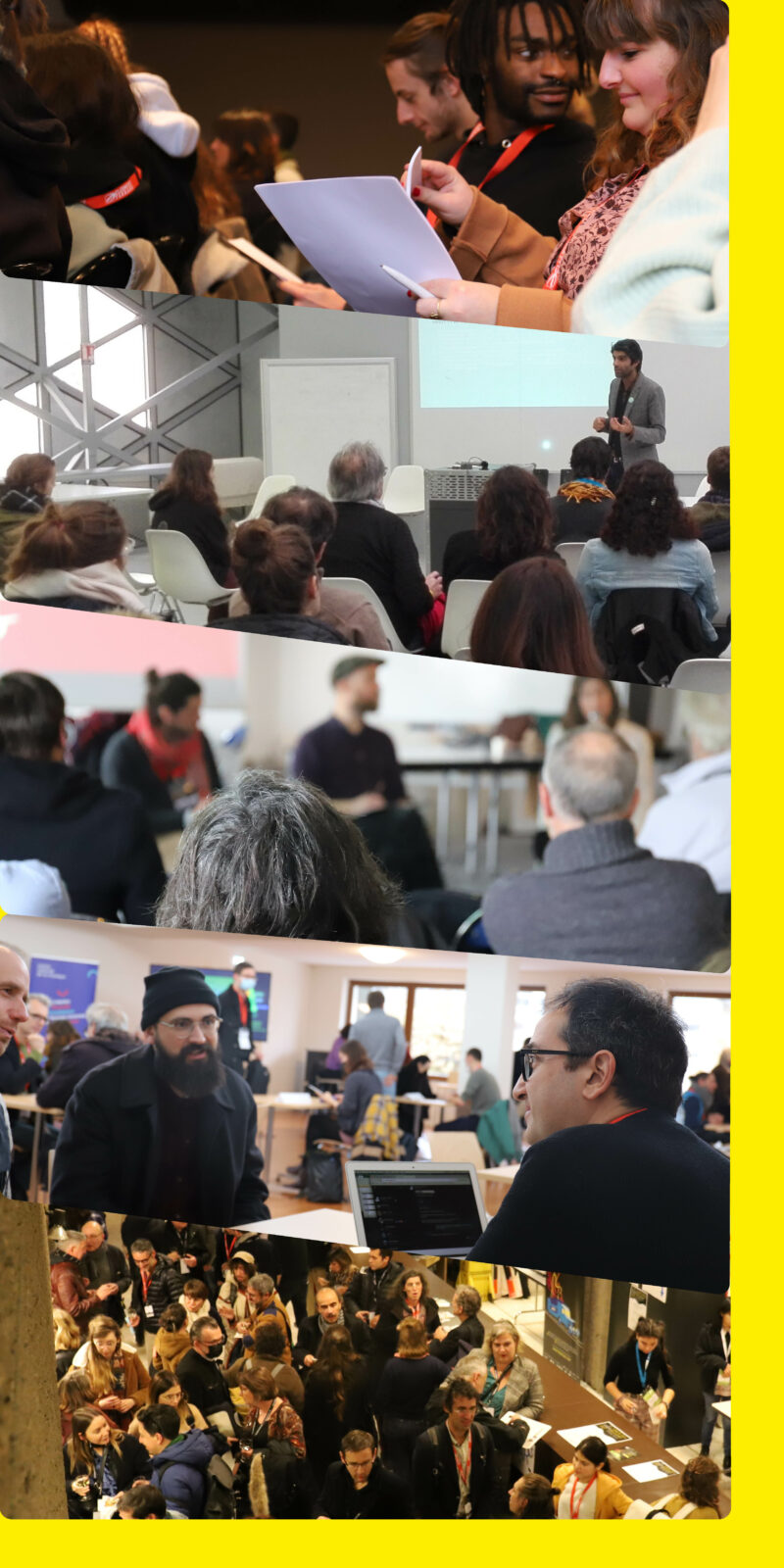 Visionnez les Live Report des éditions 2017 et 2019
Télécharger les synthèses des rencontres des précédents Forum Jazz